Sunday, September 23, 2018
Chag Sameach
Saturday, September 22, 2018
Joyful Hasidic couple have 'spread the light' in Omaha since 1986, hope for more weddings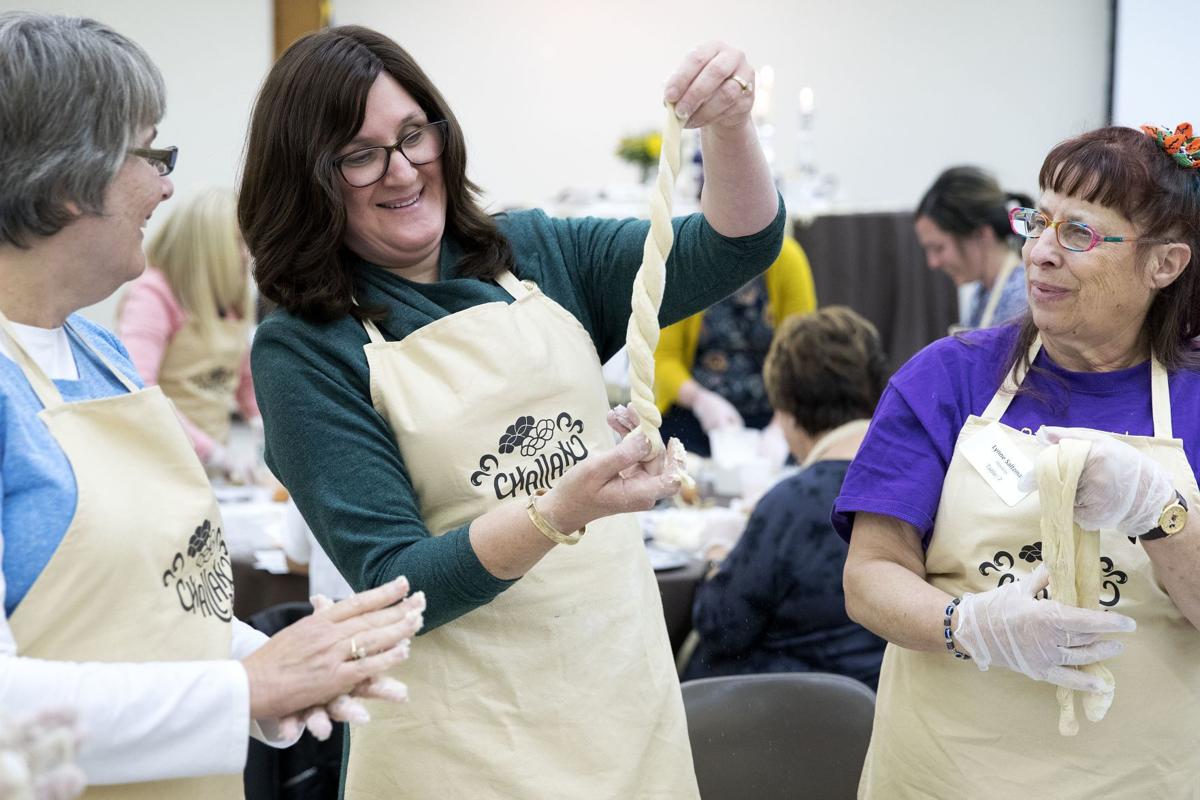 As a rabbi's wife led a joyous bread-making event prior to the current Jewish High Holy Days, it was a reminder of another happy occasion eight years ago.
Along busy 10th Street outside the Hilton Omaha, a Hasidic couple married under the traditional canopy, a chuppa. As a goat's horn blew, drivers who must have wondered what was going on honked back.
Many invitees had come from New York, the men all wearing beards and black hats. A Jewish friend of mine observed, "This isn't something you see every day in Omaha."
At the reception afterward in a Hilton banquet room — women on one side, men on the other — a New York rabbi playfully announced: "Welcome to the first annual Katzman wedding!"
That drew laughter, but it seemed like a good bet. Rabbi Mendel Katzman and wife Shani, assigned to Omaha in 1986 to "spread the light" of their faith, have raised their 12 children here, and bride Estie was the oldest.
The Katzmans practice their faith from a synagogue at the Chabad House, 120th and Shirley Streets. They also move about the community and beyond.
With nearly 250 attending Sept. 6 at the Hilton, Shani conducted her third annual pre-Rosh Hashana "Challa Bake," preparing the rich, eggy bread of the Sabbath and holidays.
But the prediction of annual Katzman weddings? There have been no other marriages, though the rabbi sounds hopeful.
"There's some dating going on," he said, wearing an apron at the Challa Bake. "That's about as much as I'm allowed to say."
Dating, in the Hasidic faith, is far different from the societal norm. It's not casual, and kissing or even hand-holding is not allowed.
Marriages aren't exactly arranged, but dates sometimes are. Often parents know of another family with an eligible young adult and a date is set up. Or single folks might arrange their own.
Either way, once there is a date, the two are expected to begin considering each other for marriage.
I've met most of the Katzman kids over the years, and they are charming, smart, faith-filled and attractive. Shani home-schooled them, and in some cases they traveled to other cities for secondary schools or beyond.
Their names are not trendy, but come from a tradition thousands of years old: daughters Estie, Shevi, Mushka, Chani, Rochi, Devorah, Miri and Feigy, and sons Levy, Yossi, Zelig and Zalmen, whose bar mitzvah celebration I attended in 2016.
That same year, when visiting my daughter and her family in Brooklyn, I had lunch with three adult Katzman sisters at their invitation in the Crown Heights neighborhood.
Crown Heights, where Mendel and Shani grew up, is home to the worldwide headquarters of the Chabad-Lubavitch Hasidic Jewish movement. Along tree-lined Eastern Parkway, men wearing black fedoras are a common sight.
"When you walk into Crown Heights," Rabbi Katzman said, "you see the external fervor and life. It isn't just putting together bagel and lox."
The Katzmans were assigned to Omaha by the movement's leader, Menachem Mendel Schneerson, who died in 1994 and whose memory they revere. He was known as "the Rebbe," and the Katzmans say that in Jewish history, they consider him equal to Moses.
The Chabad mission encourages people to be optimistic and joyous and to think of others first. Chabad provides counseling, crisis intervention and education, and hopes that its chabad.org website is "the go-to for all things Jewish."
https://www.omaha.com/columnists/plus/kelly-joyful-hasidic-couple-have-spread-the-light-in-omaha/article_1bc621bb-dd14-50f9-acde-0ba4e58f71cc.html
0 comments

Friday, September 21, 2018
Supervisor denies making comments universally condemned as bigoted
Thursday, September 20, 2018
A Glimpse Inside the Hidden World of Hasidic Women
Wednesday, September 19, 2018
ADL blasts supervisor's comments as anti-Semitic and hateful, Preserve Chester calls for resignation
Tuesday, September 18, 2018
A G'mar Chasima Toiva
Monday, September 17, 2018
Future Jew
Sunday, September 16, 2018
Could This Ultra-Orthodox Man, Set to Win Full Haredi Support, Be Jerusalem's Next Mayor?
Saturday, September 15, 2018
It's a shanda! Jewish fans of Will & Grace dismayed as guest star Minnie Driver is seen in black hat, curly sideburns and prayer shawl worn by Hasidic men waving 'Shalom Everybody' in show promo
Friday, September 14, 2018
Chester buying property 'to keep the Hasidic out'
Thursday, September 13, 2018
Quebec election: Michelle Blanc says she owes Hasidim no apology
ZEV FISHER: YOUNG, HASIDIC AND ENTREPRENEUR
Wednesday, September 12, 2018
Attacks on Hasidic women continue over Rosh Hashanah
Tuesday, September 11, 2018
Wanted to end his life near Rebbe Nachman
Sunday, September 09, 2018
K'Sivah V'Chasima Toivah
Friday, September 07, 2018
Up to 80,000 Hasidic pilgrims expected to arrive in Ukraine
Thursday, September 06, 2018
Violent threats to Jewish students at Stanford U.
Wednesday, September 05, 2018
Cuomo dodges questions about endorsement deal with rabbi
Tuesday, September 04, 2018
Alleged Brussels Jewish museum attack accomplice jailed for extortion in France
Israeli police arrest 3 suspects involved in huge flight tickets scam
Ultra-Orthodox coalition party to end ban on women, but says nothing will change
Monday, September 03, 2018
Ukrainian City Commemorates the 75th Anniversary of the Destruction of Its Jewish Community
Sunday, September 02, 2018
UK ex-chief rabbi warns of Jewish exodus over anti-Semitism
Saturday, September 01, 2018
Hundreds of Jewish Divorces in Israel Delayed Despite Rabbinical Judges Granting Them
Friday, August 31, 2018
THE HASIDIM PUT UP A FIGHT WITH A UKRAINIAN CREW ON BOARD UIA
Thursday, August 30, 2018
Protest Targets Chicken Sacrifice For Hasidic Ceremony Kaporos