Wednesday, July 12, 2017
100 firefighters battle blaze at London Jewish school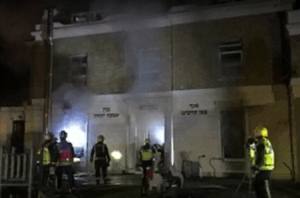 About 100 firefighters tackled a raging night-time fire that ripped through London's Talmud Torah Machzikei Hadass School.
As many as 15 London Fire Brigade (LFB) trucks arrived on the scene to combat last week's blaze, which caused the school's ground floor to collapse into the basement of the building.
The school, an independently run Orthodox institution for boys affiliated with the Belz Hasidic sect, was significantly damaged in the fire. No injuries were reported. The school serves more than 500 students.
The London Metropolitan Police is investigating the cause of the blaze, which follows two arson attacks in June on kosher restaurants in the British city of Manchester. Police labeled the arsons as "anti-Semitic hate crimes."