Tuesday, March 25, 2008
Men arrested for soliciting attend a John School in Brooklyn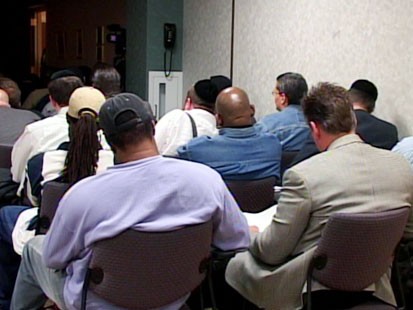 How many Yarmulkas can you count?
It's a Tuesday evening in Brooklyn and "John School" is in session. Every couple of months, more than 100 men representing every race, background and social status gather to learn about the dangers of prostitution — to which some have had first-hand exposure.
Sitting in banquet-style chairs in a windowless lecture hall, they wear everything from sweats to designer suits. There are Yankees hats and yarmulkes. Briefcases, sneakers and loafers line the aisles.
But they do share one thing in common: every participant was arrested after offering undercover cops money for sex.
http://abcnews.go.com/2020/Story?id=4488623&page=1

Comments:
HaHa- LOL
Glad this is out in the public eyes now. Maybe these guys will stop this stupidity. Then they go home to their wives. That's the sad part.
Post a Comment