Friday, March 18, 2011
Area Preschoolers Celebrate Purim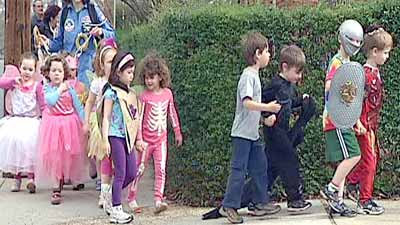 There was a childhood celebration of diversity in Charlottesville Friday morning. Preschoolers dressed up in costumes at Congregation Beth Israel to mark the holiday of Purim.
Purim commemorates the deliverance of the Jewish people from destruction. Wearing masks is a custom during the holiday to show how God remained hidden throughout the Purim miracle.
Giving to charity is also the order of the day. Zac Price, the director of early childhood education at Congregation Beth Israel said, "The moral of the story is that anything's possible, that you need to stand up not only for who you are, but also for other people."
The kids ate challah bread, drank grape juice and sang traditional Jewish songs.
Purim is celebrated on the 14th day of the month of Adar on the Jewish calendar. This year it happened to fall on March 20.
http://www.nbc29.com/story/14278817/diversity-celebration-held-in-charlottesville