Monday, August 15, 2016
How Mentally Ill Hasidic Women Slip Though Cracks in the System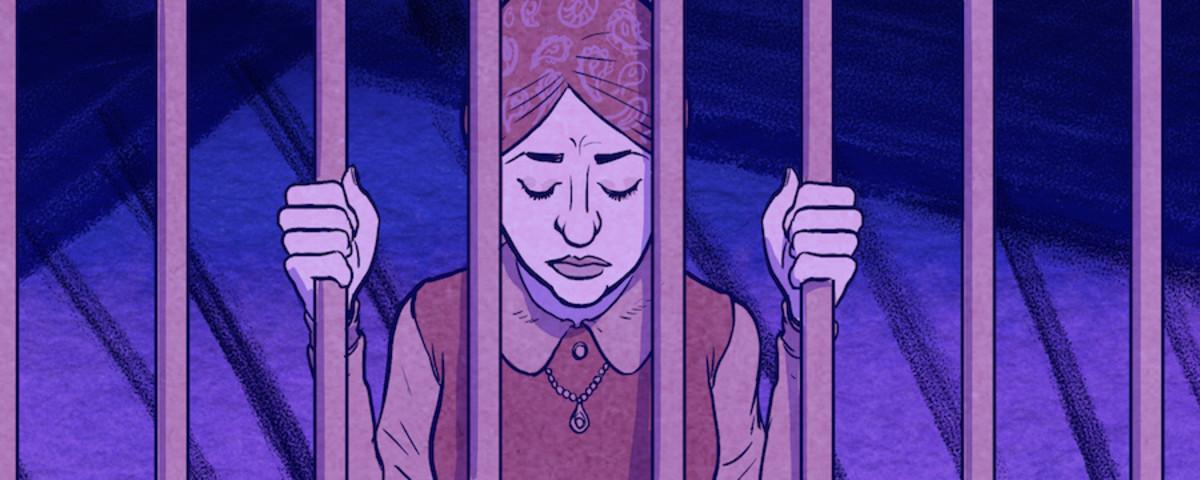 By the time Rachel was hospitalized at New York City's Cornell Weill Psychiatry Specialty Center in July 2014, she was almost too exhausted to speak. For years, she had been traveling the same cloistered, unrelenting path on which many female members of her branch of ultra-Orthodox Judaism find themselves: arranged marriage at 18, a domineering, sometimes abusive husband with whom she would have a bevy of kids. Duty, family, duty, duty. She was breaking slowly under that weight, and worst of all, she had no one to talk to. Everyone Rachel knew was in similar situations, and she had so little access to the outside world that she didn't know there was any other way to live.
"I was having a baby every year because I wasn't allowed to take birth control, and I wasn't allowed to talk about the fact that I couldn't take birth control," Rachel, who asked me not to use her real name or any identifying details, tells me over Skype.
Rachel, who is in her early 30s and looks like a dark-haired Lena Dunham, bats away her sidecurl-sporting son, who keeps climbing into the frame. She's speaking from her dimly lit apartment in Borough Park, Brooklyn, where she remains for the sake of her children. She has a thick accent, a wry sense of humor, and a hurried manner of speech. Which makes sense: She's terrified of being caught speaking to someone outside the highly religious community, let alone a reporter.
In 2011, she tells me, Rachel reached out to a mental health referral service called Eitzah for help. She says she was sent to a life coach who instructed her to pray, drink more water, and not go the police even after her husband's abuse extended to her kids.
"They would say, 'What do you wanna do, break up your family? You got kids, you got this, you got that,'" she remembers. "I was like, 'Well, what am I supposed to do? He's beating me and I'm smiling to the whole world because I can't talk to anyone.'"
Finally, it all came tumbling down for her and she checked herself into a hospital on the Upper East Side. It was her first opportunity to learn how the secular world worked; the only problem was she had ceased to care. Her depression deepened, and Rachel barely saw the point of living. It was impossible for her to discuss the abuse with anyone, she says—every time she saw a doctor, an ultra-Orthodox woman referred to as a "community liaison" was in the room.
But two weeks into her stay, another ultra-Orthodox patient was brought in: Faigy Mayer, the woman whose name briefly became famous last year when she jumped off the 20th floor of a tony Manhattan bar in July. The tragedy came with a made-for-tabloids narrative. "Ex-Hasid's death bares anguish of leaving ultra-Orthodox sect," read one New York Post headline. Faigy's still-religious sister, Suri, went on to hang herself the following October, further casting a pall over the family.
But the story of Mayer's death didn't start when she went off the religious path, or derech—she had been troubled since she was a child, and her difficulties surely weren't helped by the frequently shoddy approach to mental health taken in Brooklyn's ultra-Orthodox world.
Rachel remembered Mayer by reputation. By the standards of the community, Mayer was a rebel.
Going off the derech means rejecting everything you've known, and often turning your back on your family. When Rachel tried to picture what happened to such people, she could only imagine them being swallowed by a black hole. But here was Mayer––a raven-haired beauty with an awkward posture and glasses that were perpetually on the verge of falling off her nose––explaining that she'd been committed for handing out condoms in the middle of Borough Park.
"She was paranoid, but she wasn't hallucinating," Rachel remembers of their four weeks together. "She was very clever and focused and articulate, and we really had great discussions in the hospital. She was from a younger age group, but we ended up having conversations like two people on a rocking chair, reminiscing, like in a nursing home. It's like we've lived parallel lives. We knew each other's traumas without having to know the details of it."
The two women had a lot in common. They'd both grown up in the same Hasidic Jewish neighborhood, where they were taught to follow the orders of their respective rebbes down to how many stitches they could have in their socks. Now Rachel had someone to mock her former teachers with, someone with whom she could openly question her upbringing. "The staff there was so happy that Faigy found someone there that she knew, because she wasn't really talking to the staff," Rachel says.
The duo had one more important thing in common: Eitzah.
Eitzah is a hotline that helps parents to "learn how to diffuse tension, create calm, and get their children to listen," according to its website. The name is Hebrew for "advice," and many ultra-Orthodox Jews in Borough Park turn to it in times of need and stress, as Rachel did. But several young women say the hotline, run by the nonprofit umbrella Mishkan Yecheskel, intimidates people who might want to leave the community while directing patients to unlicensed "life coaches" who do more harm than good.
Because they're unlicensed, such practitioners aren't required to report instances of abuse or neglect to the city or state of New York. Victims and advocates tell me that these coaches are sometimes recommended by pillars of the ultra-Orthodox community for precisely this reason.
The informal and often inadequate mental health system is just one of many ways that Brooklyn's ultra-Orthodox are isolated and insulated from the systems of government and law enforcement that run the rest of the five boroughs. Interviews with academics, rabbis, activists, members of the community, and those who have left it suggest this loophole protects an image-conscious group from public scrutiny in cases of domestic violence and sexual assault—all at the expense of vulnerable women.
Jennifer Mesrie is a psychiatry resident at Montefiore Medical Center who was recently awarded a fellowship grant to study the mental health of former Hasidim. She says people like Mayer and Rachel have no good options: They're ostracized if they leave, and silenced if they stay.
"These are people who are brought up in extremely isolated communities that are extremely disconnected to the rest of the world and the process of... transitioning out of these communities is so disruptive and very often there is nowhere for them to go," she says. "There are so many basic life skills that they may not have, and many of them end up feeling desperate or ending their lives.
"On the flip side of that, families will send their kids to unofficial mental health workers, who are members of the community and see things from the same perspective," she continues. "They may very often worsen the situation by not understanding how bad that situation might be."
During their late-night talks, Mayer tried to convince Rachel to leave Borough Park, but she was too scared to make the plunge because she didn't know how to support her kids. Today, she has a protective order against her husband, though she lives with him—one foot still firmly inside the community she believes is responsible for perpetuating her abuse. As she puts it, she's "in both worlds, which is not the right place to be, but it's getting there."
Rachel believes unlicensed therapists are running rampant in Borough Park, and that the mental health regime there keeps people like Faigy Mayer and many others from getting the help they need. "It's everyone I know," she says. "My old neighbor used to see people for $300 an hour with no certification. And I know Faigy had that in her life, too."